Jack Bogle RIP - The inventor of the index-linked tracker fund
What you can learn from Jack Bogle's investing philosophy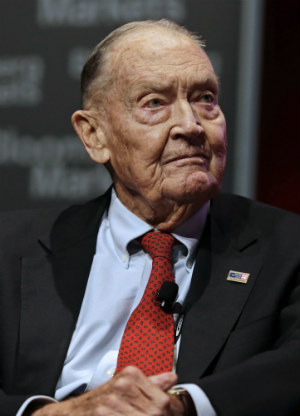 Jack Bogle, the man whose invention, the index-linked tracker fund, saved solo investors billions upon billions of dollars in fees sadly passed away in January aged 89.

At RetireOnDividends.com, we have looked at the impact Bogle had on the part-time investor and why tracker funds are a very serious option for nearly all investors. [Click here for our full article...].

Bogle was also a celebrated financial author and you can read a brief review of his most popular book "The Little Book of Common Sense Investing" here.

In brief, here are the main points to learn from this remarkable man and his investing philosophy:



LESSON #1: DON'T PAY FUND MANAGERS' SALARIES WITH YOUR INVESTMENT FUND:

Traditional mutual funds are expensive and these costs eat severely into your profit. When this compounds over years, the hit is enormous: If you started with $25,000 at the age of 25 and added $10,000 to your account every year for 40 years and earned 7% per year then you would have $590,000 less if you were charged just 1% in fees. Most managed mutual funds charge around double that!

The passive index-tracker funds Bogle invented have tiny fees by comparison, generally 0.1% or lower.



LESSON #2: MOST INVESTORS AND FUND MANAGERS HAVE A 50/50 CHANCE OF BEATING (OR BEING BEATEN BY) THE MARKET:

Jack Bogle understood that the returns of the entire market were a zero sum game; if one investor outperformed the market by 2% then another must underperform by the same amount. Once costs are included then, in aggregate, most individuals and fund managers must underperform.

By buying the whole market with low costs, then, over time, you will perform as well as the underlying businesses in the index. It will require patience but the performance since 1900 in the US has been around 9.5% per year according to Bogle.

These are more than acceptable returns to someone who simply keeps buying (and holding) index trackers.

For that reason, unless you're incredibly confident in your ability to pick quality companies, it's probably a good idea to stick largely to tracker ETFs or Traditional Index Funds (TIFS) in your portfolio. They're not sexy, but they work.


---
New on RetireOnDividends during January:
---


LESSON #3: IT'S IMPOSSIBLE TO TIME THE MARKET, SO DON'T EVEN TRY:

Bogle's philosophy was to buy and hold... preferably forever. He believed that if the average investor would do just fine if he or she simply purchased investments and kept reinvesting the income. In this respect his philosophy was precisely like Warren Buffett's. One of his most famous sayings was "don't just do something, stand there".



LESSON #4: DIVERSIFICATION IS KEY:

This is the wisdom that every trader knows in their head, but perhaps not in their heart. Deep down we all would rather own that one stock that goes through the roof. Who wouldn't?

The problem is that if you're only willing to bet on one or two stocks, you run the risk of serious losses if your choices turn out to be losers.

Bogle championed the passive index tracker fund not for his own profit (he structured Vanguard as a non-profit-making co-operative which paid no sales commission) but for the good of the customers. He favored trackers because even for a small investment, you get instant and broad diversification - the holy grail of investors, small and large alike.

To read our full article on Jack Bogle's life, click here
Mike Roberts

P.S. Would you like a question answered in our next newsletter? If so, email it through to me at mike@retireondividends.com