Investing Terminology ... explained!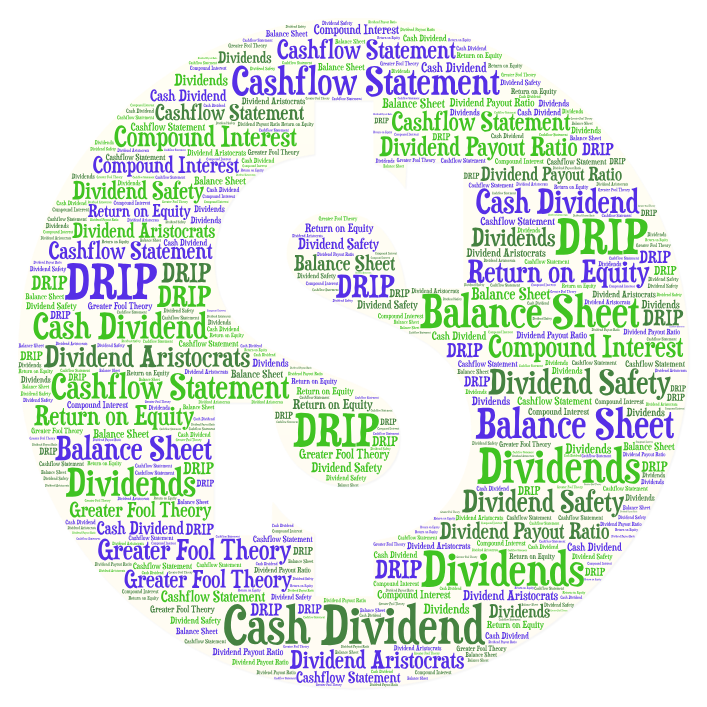 There's no doubt about it: investing terminology can be bewildering. But don't fret, RetireOnDividends' jargon buster is here to help. Below are the main investing terms we all need.
Click on the titles or the links for more on each term and the strategy connected with it.

---
Investing Terminology Explained...
Balance sheet
Learning to read a balance sheet is a key skill. Click here to find out how you can determine the dividend safety of a stock from its balance sheet.

Probably our favorite bit of investing terminology - this is when you get paid! Click here for details of  the difference between cash dividends and stock dividends.

Cash is king! Click here for information about  determining "free cashflow" and how it can help you determine the likelihood of healthy dividends and future growth. 

As far as investing terminology goes, compound interest is the big one. This is how the majority of investors make their fortunes. Click here to see how.

These are companies with 25 years or more of consistently increasing dividends. Are they good buys for your portfolio? Find out here.

The essentials about dividends (the reason we're all on this website!) Click here to find out how dividends can change your mindset for the better as an investor.
This crucial piece of information helps you to determine how likely you are to be paid. Click here for the crucial information.
A key metric to calculate before you invest. Click here for how to calculate it to compare companies you're thinking of investing in.
Critical in order to know whether you're likely to get paid in a down market, click here to understand this key metric.
The way investing terminology says: "too good to be true". Click here for how to avoid the dividend trap.
The best way to put investment on auto-pilot. Click here to find out how...
Earning money in a wealthy area and spending it where prices are low. Dividend investing can allow you to do this. Click here for details.
Buying assets which do not produce income, but only capital growth is termed by many "greater fool theory". Find out how to avoid it here.
The age old question of whether to invest for capital growth or income is dealt with here.
A crucial measure of a company's efficiency. Click here for full details.
These little beauties are unexpected pleasures. They pop up more often than you might think! Click here for details
Would you rather a company bought back large amounts of its own shares or paid a dividend? Click here for a discussion of the benefits, drawbacks and tax implications of both approaches and whether they should affect your decisions as an investor.
---

Mike - six-figure dividend earner
Got a BURNING dividend question for 6-figure dividend earner Mike Roberts?
What is it that you really want to know about investing?
Submit a query and Mike will write a page in response.

PLEASE NOTE - in accordance with our terms of use, responses are meant for education / interest only. We do not give specific financial advice.

---