Stockopedia Review:
In 2017 when I first started investing, I netted a 26% return in 6 months as a complete beginner using Stockopedia.

Since then, my investments have remained ahead of the index, despite the inevitable ups and downs. Below is the review I wrote at the end of that heady first 6 months...

Nothing much has changed from my belief back then that Stockopedia is one of the best resources available for part-time investors.


After 6 months it's about time I write a Stockopedia review… It's the website I've been using to analyze and pick shares since I started my portfolio in July 2017.
In those 6 months, my stock picks are up 26.25% (despite a flash crash) and while I doubt I'll keep up that kind of pace of growth, it's a pretty powerful indication that there's some sense behind this nifty and affordable online tool.
It's been a massive help and I'm not sure I'd have invested in any of the stocks I finally settled on without the insights this suite of web tools brings. Thank goodness I did - the market fell  I want to show you some of the features that I've used ... and the odd limitation. 

Stockopedia Review:
What is Stockopedia?
It's an online service started in the UK by Edward Page-Croft and Dave Brickell, both of whom worked in the City of London, but left to found their online business.
Stockopedia started out covering the UK market but now covers all the major stock markets of the world. It presents the kind of stock data hedge fund managers and top level stockbrokers use in simple and educational ways. Their data comes from Thomson Reuters, so it's top level.
Accounts cost in the region of $250 per year (depending on the region you want to target) and all the tools are online once you sign up and log into an account. 
As I write, they offer a free 14-day trial period.
Here's Stockopedia's co-founder presenting his product: 
If you've read my blog entries, you'll know that I'm not a long-time trader with great market insight... instead I fall into the category of an individual investor with hopes to match or possibly beat the market so that I can supplement my pension income and afford an early retirement from dividend income.
Stockopedia, the site designers claim, is designed for people like me. 
It's features are supposed to work "straight out of the box", but also to give the depth and range to give amateur investors the insights to compete with professional fund managers.
Obviously the success or failure of my investments will be clear to see in the long-term results - and you can read about the progress I make in my blog posts - but at this early stage, my Stockopedia review is overwhelmingly positive.
For me the biggest plus has been the speed with which you can research and screen companies when looking for stocks to buy.
Stockopedia Review:
Top feature #1: Screening

Using the screening function, you can narrow down the bewildering array of companies to just a few which you might consider investing in. There are dozens of what are termed "Guru Screens" pre-loaded into the system which reflect the general principles of top investors such as those you can see below.
You can easily get an idea about which ones work, as they show the return these screens would have given you, had you invested in each of the stocks they recommend over the last 5 years: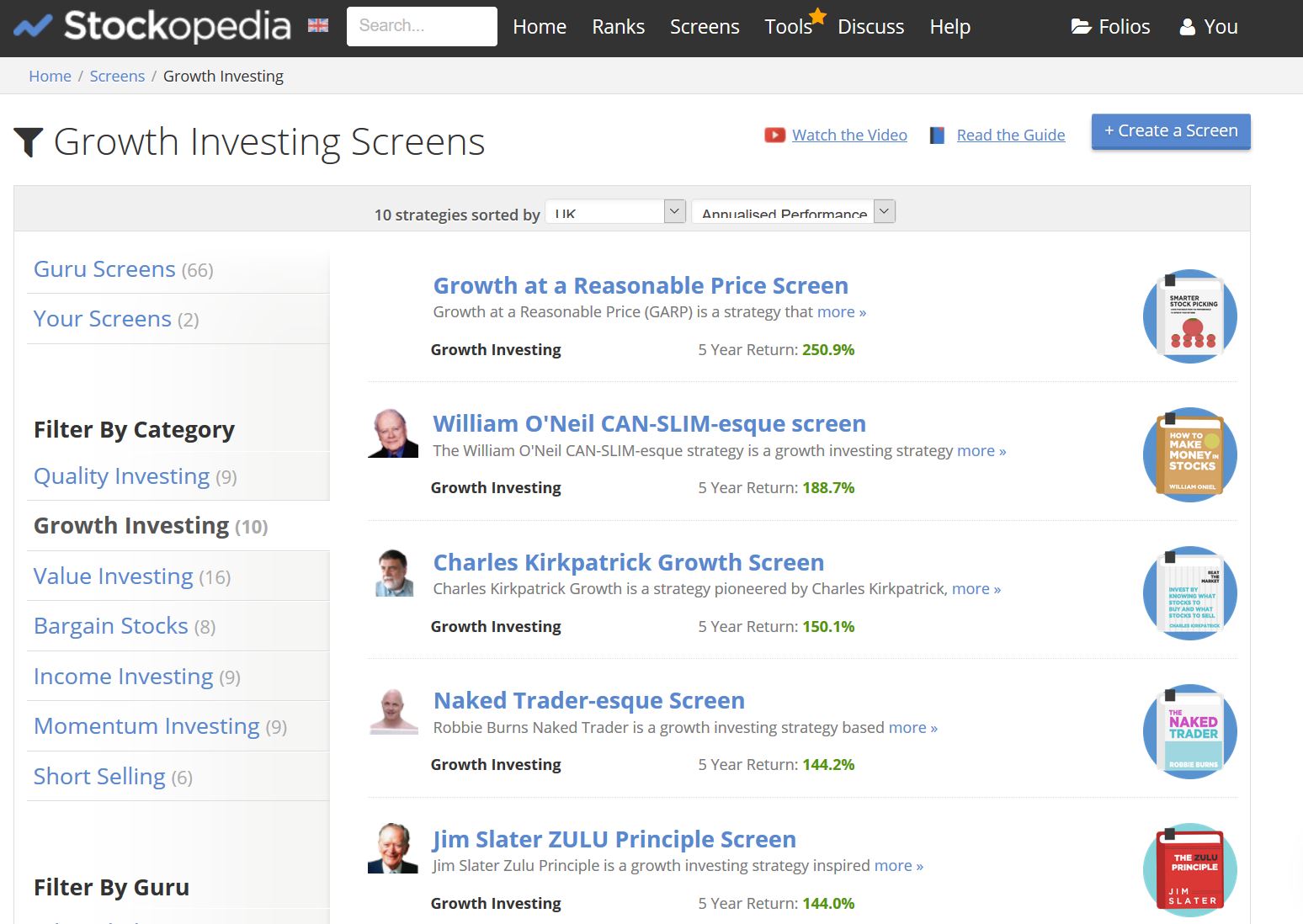 The 5-year return figures (in green) are eye-watering, but remember two things: these are the best of the all the screens available and this has been the longest bull market in history.
For me as a beginner at investing, it's extremely helpful to scan down the list of stocks which meet a handful of the screens that fit my investing priorities (a combination of long term dividend growth, low debt and a size that hopefully means they won't be blown off course when recession next hits).
If I see a stock in several lists, I jot the name down and investigate further. 

Screening also allows you to load your own search criteria, and I've been using the following set recommended to me by my buddy (the six-figure dividend earner, still in his 30s) Mike Roberts. Here's the list he recommends:
Net Debt <0  (i.e. overall the company is in credit)
Average return on equity in the last 5 years of >15%
Dividend yield >4%
Stockopedia Review:
Top feature #2: Valuable, live information, simply presented

Once you've found some stocks you want to investigate further, you click through to an information page like this: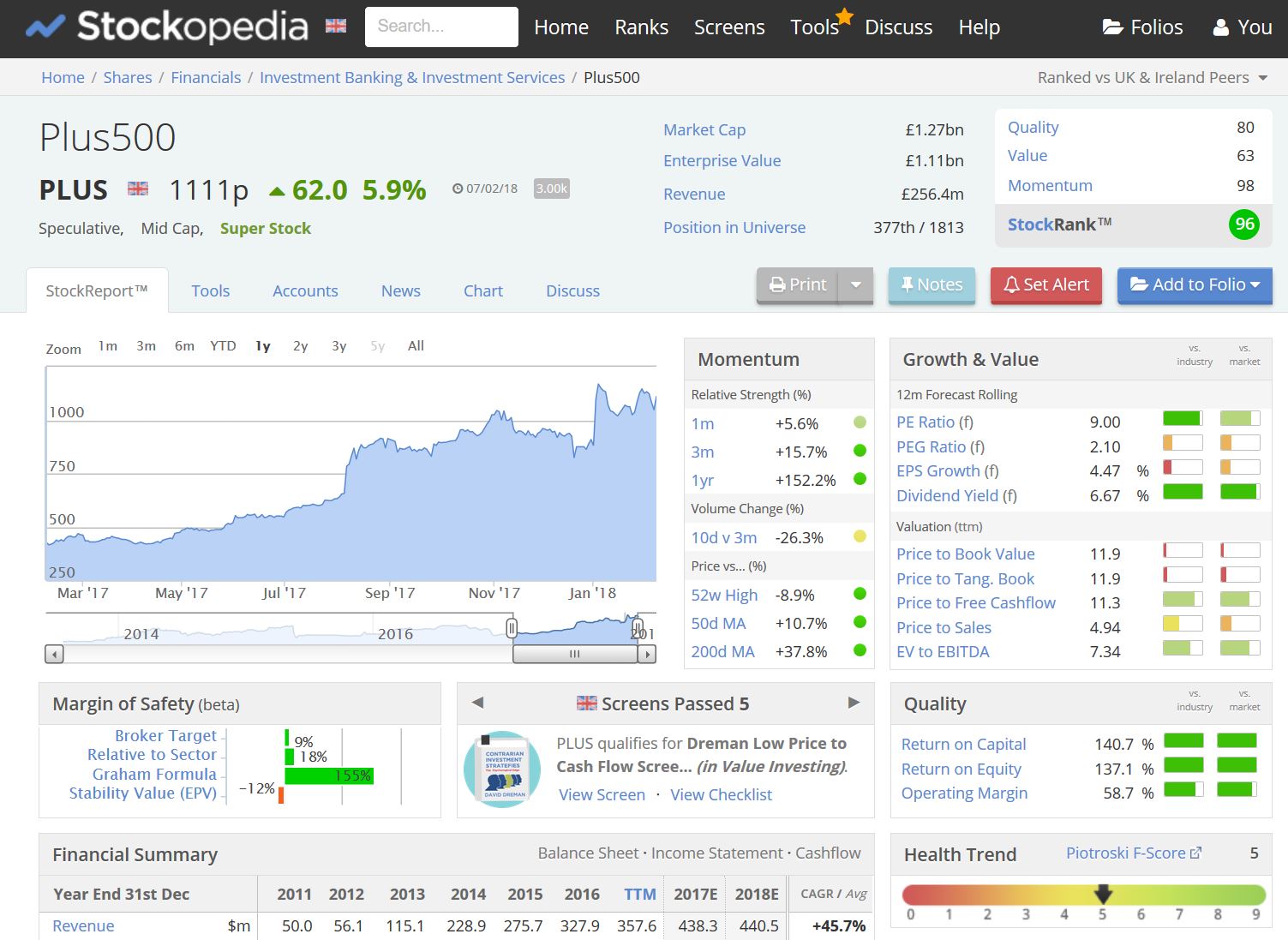 Here all the information I think I could ever want (and plenty more I don't understand) is presented on a single page. 

My particular favourites are:
The instant bar graphs that pop up showing how each element of the company's affairs have developed over time. Want to know whether the dividend has consistently risen and compare that with the dividend cover or the earnings per share... easy - you just hover your mouse over each element and up it pops. 
You can see how many Guru Screens this stock passes at this moment in time.
The Benjamin Graham value formula plus other valuation metrics are laid out below the main header.
Using this information and what Mike has taught me about dividend cover, free cash flow and dividend yield, I've managed to pick stocks pretty quickly and so far they're working out well (click here to see my latest portfolio results).
Stockopedia Review:
Top feature #3: Stock Ranks

Stock ranks are a system devised by Stockopedia to sort stocks on the market by fundamentals of value (how cheap or expensive it is), quality (how solid or weak the business is) and momentum (whether the stock is generally rising or falling over the recent 3-12 months). 
Here's a look at that page: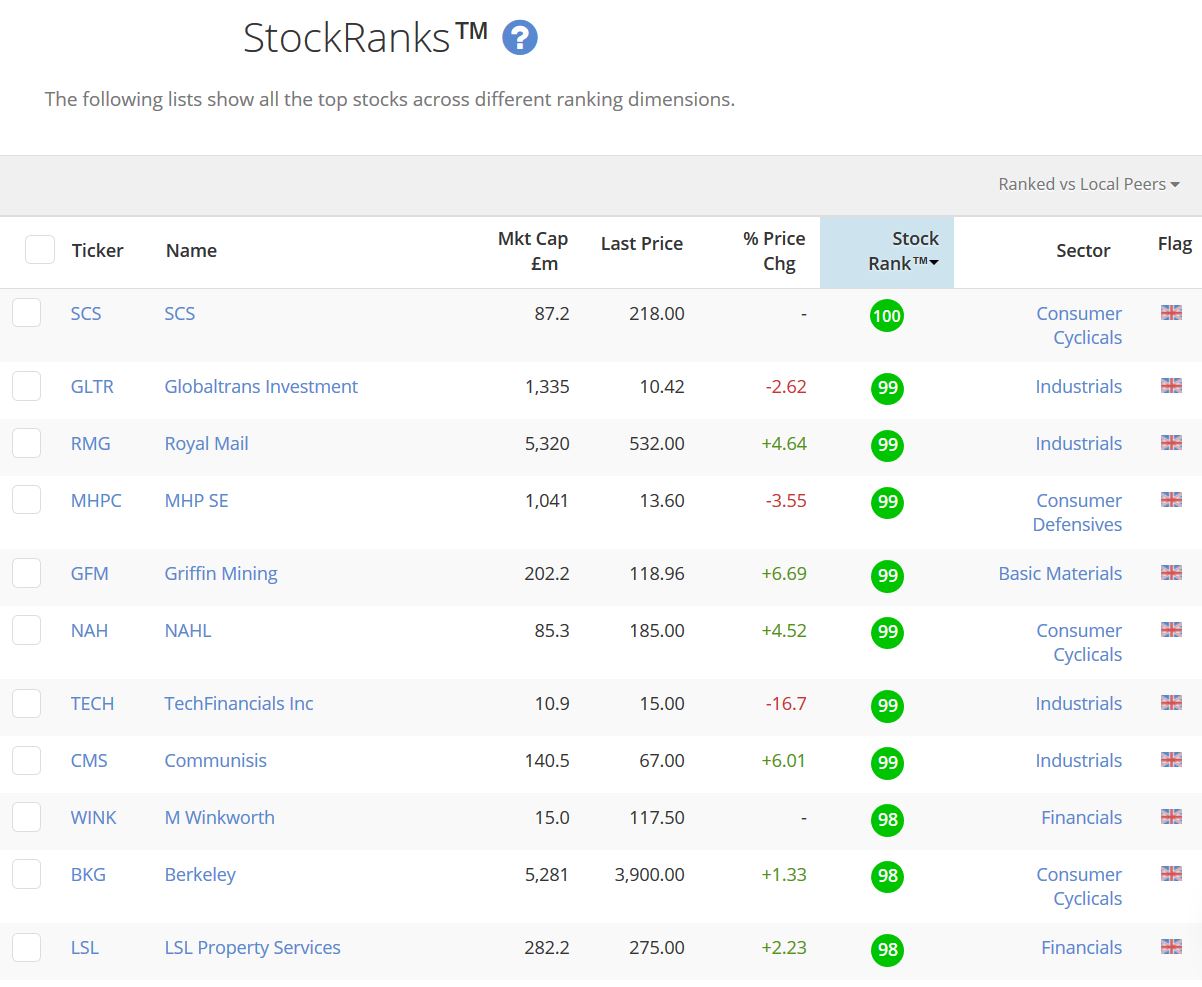 The system assigns each stock a rank from zero to 100 depending on a combination of these factors and you can strip out elements you don't like as well. 
Of course, your cynical mind might be thinking - as mine was - that basing your financial future on someone else's judgments is a risky thing to do, but they're clear about the methodology if you click on the terms used and they publish historic figures like the chart below showing that stocks ranked higher (deeper green) outperform the market and other stocks ranked lower (orange and red) and the evidence for my home market (the UK FTSE) is pretty compelling: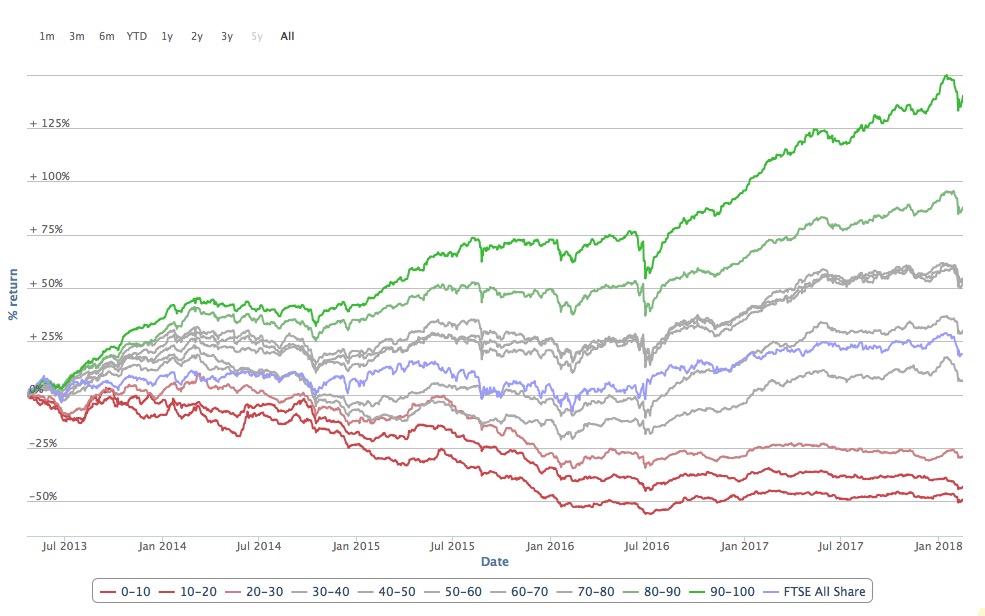 ... it has to be said, however, that the figures aren't quite as clear-cut and impressive on other stock exchanges. They're still above the market, though. 
Stockopedia Review:
Top feature #4: Portfolio bubble charts

Once you've found the stocks you like you can put them into a portfolio and see how they stack up on simple charts like these: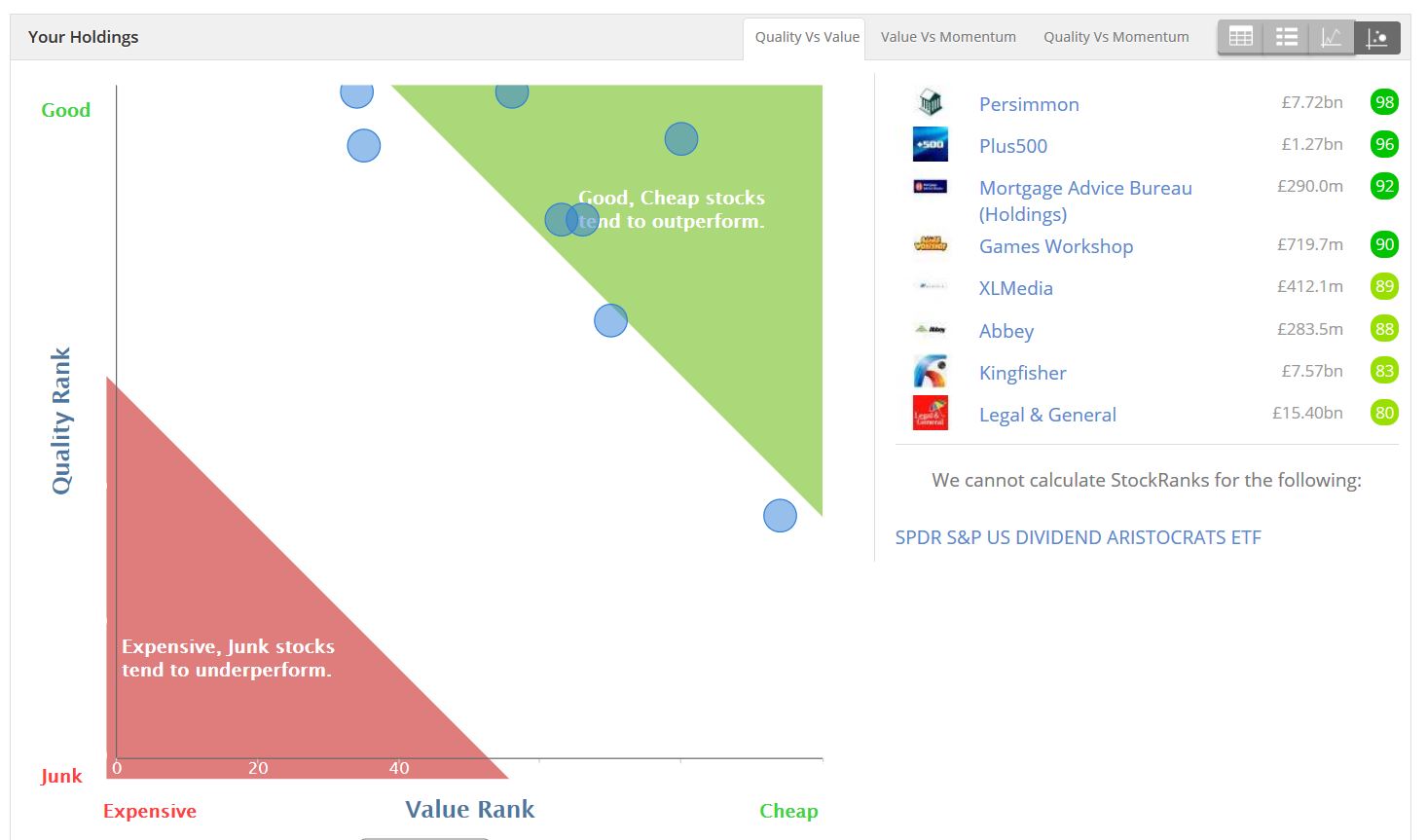 This doesn't mean you've bought them, just that you're following them. Indeed Stockopedia doesn't link to any brokers to maintain its impartiality. What I like about this is that you can see how your selections stack up by triangulating judgments made from the financial data which summarise its strength in terms of Value, Quality and Momentum.
Because these charts are live, once you've made your investments, you can transfer the stocks you have actually bought into another portfolio and track them over time. If a stock you've bought is sliding you can see it easily and cut your losses, taking your cash out to invest elsewhere.
Two things appeal to me about this: 
1. The speed at which you can check the health of your portfolio - you can see immediately which stock is looking the rockiest in your portfolio and because the charts re-draw every day, you're working on up to date information.   
2. The confidence this gives you to make decisions about buying and selling. This is what had held me back from investing actively before (prior to July 2017 I had only ever bought unit trusts). 
Stockopedia Review:
Top feature #5: Ebooks, Help and Forums

If you're investing with a certain strategy (e.g. dividend growth), it's important to have sounding board for ideas and a place to get education.
The ebooks and forums Stockopedia offers have been helpful here.
Although I'm pretty much sticking with the recommendations of my buddy Mike Roberts and combining that with the stock rankings and Guru Screens, but it is nice to dip into the ebooks provided and see that broadly the same methodology Mike has taught me is being used by many other small investors.
In my Stockopedia review, I can't leave unmentioned the live help feature, which is very good.
I have asked a number of questions here and they are swiftly responded to without any suggestion that my query might have been "basic". If you believe in the adage that "No Question is a Stupid Question", you want to ask lots of them, and Stockopedia has supported me in doing this. 

In Summary...
Having read my Stockopedia review, and the results my portfolio has achieved, you won't be surprised to hear that at this early stage I'm pretty much a raving fan.
My first 6 months of investing included the February 2018 flash crash (the largest points drop in one day in Dow Jones history). During that dip, my investments lost 2.4% as opposed to the UK market's slide of 2.6% so even then I beat the market! 
I'll blog again as my experience using Stockopedia grows, but for now (and but for the two issues below) I'm a convert!
Stockopedia Review:
Disadvantages: There are some limitations ...
1. No "total returns" data
To my mind, there are only two negatives to mention in this Stockopedia review. Firstly they don't currently offer Total Return data for stocks, which, since we're focussing here on dividend investing is more than half the battle.
They say that their quality ranks generally encompasses the value of higher dividends, but if you're into numbers (like me) then this doesn't really cut it. 

2. Potential for information overload ...

It seems that drowning in a sea of information is an operational hazard whenever you look at investing.
Stockopedia has done an excellent job of presenting complex information in clear and accessible ways, but if you read everything you could on the site, you'd still drown!
As long as you're systematic and disciplined in how you choose which stocks to pick, then you can still keep your head well above water.

---

Mike - six-figure dividend earner
Got a BURNING dividend question for 6-figure dividend earner Mike Roberts?
What is it that you really want to know about investing?
Submit a query and Mike will write a page in response.

PLEASE NOTE - in accordance with our terms of use, responses are meant for education / interest only. We do not give specific financial advice.

What Other Visitors Have Said
Click below to see contributions from other visitors to this page...

How do I actually buy shares?

Having used Stockopedia to identify a specific stock to invest in, what site / brokerage tool would you recommend for me to actually use to invest my money …
---